Selling Your Home
For most families, their home is their largest financial asset, and deciding to sell it is a big decision that involves a lot of preparation and work. When you're ready to sell it's important to have an experienced real estate professional handle the details involved in the successful sale of a home for top dollar.
As an experienced professional who has helped many Denver and surrounding residents sell their homes, I know how to handle every aspect of the sales process - from strategically marketing and showcasing your home to making sure everything's signed, sealed and delivered by the closing date. We take the sale of your property very seriously! In today's real estate market we understand the importance of stepping up the marketing of your property and we take Internet seriously. We accomplish this by building a showcase Website that is dedicated entirely to your home, with its own unique and memorable Web address. This will then be submitted to the most popular real estate search engines such as REALTOR.com, multiple listing services (MLS) Trulia, Oodle, Google Base, as well as Yahoo and Google. Along with property flyers, lawn signs, direct marketing campaigns, email communication and our website! Our goal is to keep you informed weekly about the status of your home, the amount of showings and the agent feedback for you.
Your Home's Website Will Feature the Following:
· Photo Tour with up to 100 photos for slideshow
· Detailed marketing text
· Featured highlights and custom content
· Printable flyer
· Property Map
· Link to schedule a viewing
· Open house information
· Enhanced search engine optimization
· Property documents (disclosures, plot maps, floor plans, etc.) for downloading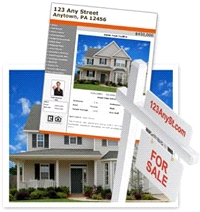 You will also be given an account that will allow you to login to access Website statistics and track how many people are viewing your site. You can customize and view graphs for particular date ranges, review the top five pages visitors are looking at and see what sites are leading them to your home's Website. This marketing is second to none. You can be assured that the casual buyer surfing for homes will not click away from your home. By creating your own property Website, I will give your home the exposure it deserves, making it visible to a worldwide audience 24 hours a day, 7 days a week! Check out some of our sites:
www.briarleafavenue.com
www.NewVictoriansInHighlands.com
www.WestRidgeRoad.com
Providing you with comprehensive, high-quality listing service is my top priority. So when you decide to sell your home, please contact me and let's get started!
The following articles are a great place to start if you're looking for information about the sales process and how you can get more for your home when you decide to sell.